16 January 2019
Colour on the carpet: Golden Globes
Sunday 6 January saw the kick-off of awards season with the 76th Golden Globe Awards, hosted by Sandra Oh and Andy Sandberg.
Mahershala Ali's Zambian emerald signet-style ring by Kimberly McDonald was the perfect accompaniment to his Golden Globe for best supporting actor in a motion picture. Mahershala's striking Gemfields emerald appeared on the red carpet, awards stage and at after-parties, as he celebrated his win in style.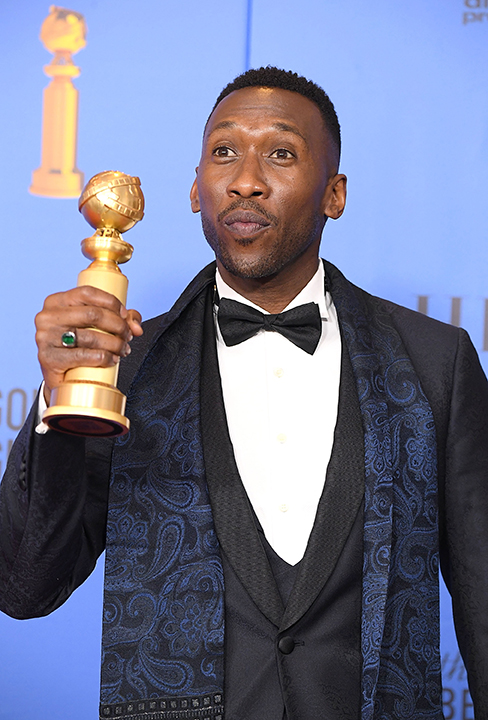 With a plethora of colour on the carpet this year, the Globes could not have been further from last year's blackout, with a number of A-list actresses also championing colour on the carpet. Earrings were the jewellery item of choice with statement, chandelier style options dominating.
Catherine Zeta-Jones, Saoirse Ronan, Jodie Comer, Octavia Spencer
all opted for emeralds;
Patricia Clarkson
and
Nicole Kidman
matched the red carpet in rubies and
Jessica Chastain
went all-out in a multi-coloured style. Other nods to colour came in the shape of rings, with
Catherine Zeta-Jones
and
Octavia Spencer
teaming their earrings with complementing emerald rings, whilst
Charlize Theron
chose an emerald ring against a backdrop of diamonds.
Jessica Chastain
chose a ruby ring to pair with her multi-coloured earrings and other multi-coloured confections included
Julianne Moore's
bracelet and
Allison Janney's
necklace. Check back for more updates on colour on the carpet across the awards season.