6 April 2021
Colour on the Carpet: The 2021 SAG Awards
Awards season continued with the 27th Screen Actors Guild Awards on 5 April, and while it may have been conducted by virtual ceremony, it was nonetheless high on theatricality!
The best dressed coloured gems featured included, of course, rubies, emeralds and sapphires. Carey Mulligan chose Cartier emeralds and diamonds, whilst Vanessa Kirby, also opting for Cartier, sought a combination of rubies and diamonds, with both actresses favouring earrings and rings. Jurnee Smollett was bedecked in rubies and diamonds at Bvlgari, by contrast Sabrina Bartlett provided subtle emerald accents in her Bvlgari diamond and emerald Serpentini necklace. Kerry Washington represented the final of the 'big three' as she matched her indigo Etro dress with a statement manicure and Bvlgari high jewellery sapphire and diamond ring which she paired with diamond earrings. Also donning sapphires – this time Gemfields' own Fabergé– was Kathryn Drysdale who chose pink sapphire rings to complement her lavender confection.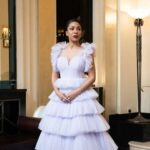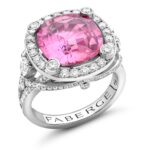 Virtual or not, this season is proving nothing short of glamorous.