When ancient cultures ascribed mystical powers to gemstones, they touched on the almost miraculous set of circumstances they require to form.
Today, this miracle is glimpsed in the hue, tone, saturation, inclusions, character and clarity of every gemstone. Skilled lapidaries carve elegant shapes, adding magic to inspire jeweller's delicate designs. In choosing coloured gemstones, you are choosing to fall in love with millions of years of the Earth's history and thousands of hours of skilled work.
Cut Proportions and Light
When white light meets a coloured gemstone, some of the light's rays are reflected outwards, while others travel right into the heart of the gem and are absorbed into it. The transmitted rays come back to your eyes in the form of body colour.
Diamonds have traditionally been measured and defined by the 4 Cs – invented by the GIA and adopted as an international language when describing and purchasing gemstones.
When you choose a coloured gemstone, you're choosing meaning, values and personality too. Coloured gems have so many subtle features that we require 6 Cs, adding character and certification to the standard colour, cut, clarity and carat. As these rules can't capture emotion, we believe it is acceptable, and even to be encouraged, to differ from the experts when it comes to personal preference.
Colour is made up of three elements: hue, tone and saturation. Thinking of colour in terms of a 3D system is helpful when it comes to visualising transparent gems. The gemstone with the most desirable colour would sit at the so-called "equator of the globe", with a medium tone and high saturation.
The phrase "beauty is in the eye of the beholder" is never more applicable than when selecting coloured gemstones.
Pleochroism is the gemmological term for a doubly refractive gem, which shows different colours depending on which angle you view it from. Emeralds and rubies both fall into this category. A highly skilled lapidary will be able to cut the gem in such a way that the pleochroism effect is minimal in the final cut-and-polished gem. The ideal end result is a gem that displays a full colour when viewed face up, with little or no secondary hue.
Certification, Reports and Treatments
Character
Like us, no two coloured gemstones are the same.
They have individual quirks and unique properties that make up their character. Unlike diamonds, coloured gemstones are not flawless. It is a combination of their inclusions – the manner in which sunlight dances through the cut, the way light fractures bring to life the crystal pigment and, in the case of rubies, evoke the "fire within" – which make up a gemstone's character.
Your choice of gem is an expression of your own individuality.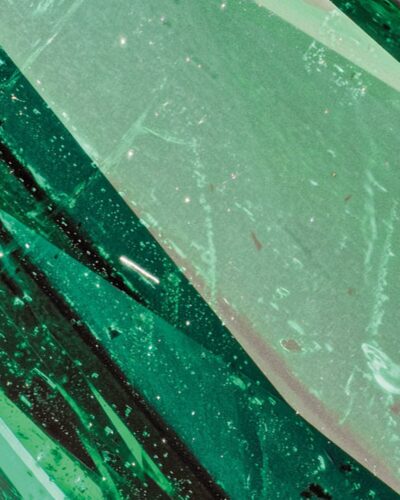 Colour
Gemmologists describe a gemstone's colour
in terms of hue, tone and saturation.
Hue is the nature of the colour itself. An emerald, for example, can vary from blue-green to green with a hint of yellow. Tone describes the intensity of the colour – from deep and rich to light and delicate. Saturation refers to purity, vividness, brightness and intensity, on a scale from grey to full colour.
Historically, the trade has defined ideal shades of colour for each variety of gem, which can influence their price. A gemstone you genuinely love is a priceless investment though.
EMERALD COLOUR
An emerald's colour is determined by the levels of chromium, vanadium and iron present in the gemstone. The amounts of these elements available when the crystals formed, the country they were formed in and even different mines in the same country can all create different shades of green.
RUBY COLOUR
It is the trace element, chromium, from which the red colour derives, that distinguishes between rubies from sapphires. Otherwise, these gems share the same characteristics, crystal structure and chemical composition. Gemfields' proprietary grading system distinguishes rubies with a primary red hue from their pink sapphire counterparts.
Rubies found in Mozambique span all of the known colour ranges, from purplish-red to orangey-red. Rubies also give the appearance of different colours when viewed in different directions, a feature known as pleochroism. Mapping these colours together in order to achieve the most vivid red hue is the skill of the gemstone cutter.
Clarity
Hundreds of millions of years ago, deep inside the Earth, a combination of intense heat and pressure changed the very nature of scarce elements, transforming compounds into rare and remarkable crystals. As the crystals cooled and solidified, minute deposits of minerals and patterns of tiny fractures were entombed inside.
These natural features are known as "inclusions" and give an identity to each gem. Inclusions help gemmologists to understand the place of origin, and distinguish between natural, synthetic and treated gemstones. Some inclusions add value and all add character – such as the garden ("jardin") inside an emerald, or the silk that forms star patterns inside a ruby.
Cut
Cut describes the shape into which the
rough gemstone has been cut and polished.
Gem-cutting is a fine art, still taking place in traditional workshops that have been established for centuries – India is known for emerald-cutting while ruby-cutting takes place in Thailand. The traditional cuts tend to be either faceted gems – those with sheer surfaces and straight-line cuts, like round or oval symmetric cuts – or non-faceted gems with rounded surfaces, like the ancient cabochon. The choice of a faceted or unfaceted cut is generally decided through the nature of the rough itself: a clean rough with a few visible inclusions lends itself more to faceting, to emphasise the natural beauty within.
The most popular cut for an emerald is the still step cut, also called the emerald cut, which improves stability in this relatively soft gem. Popular cuts for rubies are oval and cushion cuts, which minimise wastage and allow light to pass through and show the "fire within".
Carat
Carat describes the weight of the gem – though it is
sometimes incorrectly thought to describe its size.
The word comes from the carob seed, used by ancient Middle Eastern jewellers to compare the weight of gemstones based on the incorrect assumption that all carob seeds weighed the same. A carat is exactly 0.2 grams – so a five-carat gemstone weighs one gram. Thanks to the difference in density between gemstones, the carat weight of a specific cut varies by gem; an 8mm round cut emerald weighs approximately 1.75 carats, while the same sized ruby comes in at around 2.5 carats.
A 1-carat emerald appears larger than a 1-carat ruby because emeralds have a lower density. Remember – carat is a unit of weight!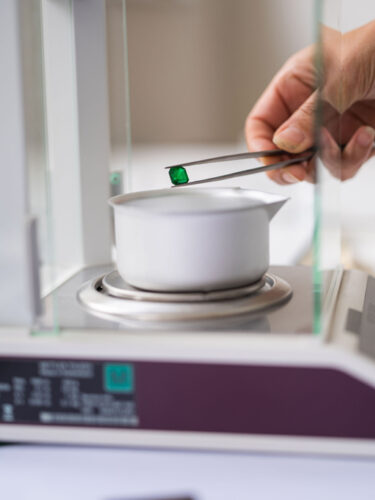 Certification, Reports and Treatments
It is important to buy from a trusted source in order to have full confidence, that your gemstone has been sourced responsibly and that it is of the quality described. Gemstones are a finite resource and there are not enough of the top quality gems to meet demand. As a result, many receive treatments to improve their appearance. The extent to which a gemstone has been treated will affect its value. Any treatments that a gemstone has undergone should be fully disclosed to the customer, and if the price of the gemstone seems too good to be true – it probably is!
Gemfields is working with its industry partners to make laboratory reports and chain-of-custody reports an industry standard. This way, buyers of Gemfields' gemstones can be confident of the quality of their purchase and know that their purchase has benefited its country of origin.
Don't be too shy to ask any questions that will help you to better understand your gemstone. All major jewellery brands have a dedicated team of gemmologists and quality-control departments responsible for selecting gemstones before they are set in jewellery, so they will be able to provide you with this information for peace of mind. For notable gemstones, a report from a licensed gemmological laboratory will provide an expert opinion on colour, clarity and carat; it can also include details of the country of origin and the presence, if any, of treatments used to enhance appearance.
EMERALD Certifications & treatments
Emeralds have received enhancement treatments since ancient times. In Jaipur, northern India, where gems are still hand cut using techniques that have remained unchanged for centuries, most emeralds are oiled to enhance their colour and mask inclusions. While this isn't thought to "alter" the gemstone itself, buyers should be aware that oil levels would need to remain, otherwise previously unseen inclusions may be revealed.
RUBY Certifications & treatments
Rubies that are opaque, or too dark, or those that contain impurities can be enhanced by heat treatment. If managed well, this can vastly improve the colour and clarity of the gem – it is perfectly acceptable to carry out this treatment, provided that it is disclosed to the customer on purchase so that the appropriate price is paid.
Expert Tips on Buying Coloured Gemstones
Look for evenness of colour
with good saturation.
Try to view the gem in daylight, so the colour is not affected by artificial light.
Do not worry about inclusions.
They are what tell you that your gemstone is real; that it has been made by nature itself and that no one else in the world has a gemstone the same as you.
A high degree of clarity with good colour saturation is rare, and will be associated with higher values (unless it comes as a result of a treatment).
If you are buying a gemstone to wear, choose the one that speaks to you rather than one you think you should like.
Buy from a trusted supplier so you know that your gemstone has been sourced responsibly and is of the quality described.
If it is a significant gemstone, request a certificate from a recognised, independent gemmological laboratory to ensure disclosure of treatments and country of origin.
All major jewellery brands have a dedicated team of gemmologists and quality-control departments responsible for selecting gemstones before they are set in jewellery, so ask questions. Sustainability is an important topic in today's market, so most brands will be able to provide extensive information on their ethos and strategy.
Seek out credible sources to get information such as jewellery experts, gemmology laboratories, industry bodies and unaffiliated regulators.
If you'd like to know that your gemstone comes from Gemfields, you can buy jewellery pieces that have been created in partnership with us.
We collaborate with jewellery brands that have a similar approach to sustainability topics as we do.
Buy cut and polished gemstones through a seller that you trust.
If you'd like to know the journey your gemstone has been on before it reaches you, opt for gems that carry traceability records.
Gemfields partners with the Gübelin laboratory of Switzerland, whose Provenance Proof technologies not only cite the gemstone's place of origin, but also set up an encrypted Blockchain record of a gemstone's journey as it changes hands from mine to consumer, providing a next step towards the goal of full transparency.